Upcoming Conferences
Keystone Symposia Conference: Genomics and Personalized Medicine (Q2)
Dates: February 7—11, 2016
Venue: Fairmont Banff Springs, Banff, Alberta, Canada
Genomics and other omics technologies are playing an increasingly important role in health care, and new sensors are being developed to help manage personal health. Spurred by the revolution in DNA sequencing technologies, it is now possible to sequence the genome of patients with cancer, undiagnosed disease and even healthy individuals to help tailor treatment for a specific individual's disease.

Please click here for further details.
Keystone Symposia Conference: Gut Microbiota, Metabolic Disorders and Beyond
Dates: April 17 – 21, 2016
Venue: Newport, Rhode Island, USA
This meeting will discuss how the gut microbiome and its metabolites influence major molecular and physiological mechanisms responsible for man-made metabolic diseases.

Please click here for further details.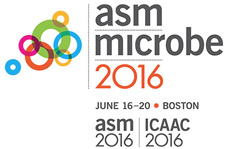 ASM Microbe
Dates: June 16 – 20, 2016
Venue: Boston, MA
The all-new ASM Microbe showcases the best microbial sciences in the world and provides a one-of-a-kind forum to explore the complete spectrum of microbiology from basic science to translation and application.

Please click here for further details.
If you are presenting at, or are aware of additional conferences where the HMP is being presented, please let us know via feedback.